It's no secret that winter in Scandinavia is cold and dark. But if you're willing to bundle up, you can have a magical adventure that's unlike any other.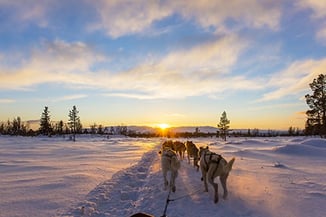 Imagine driving a team of loyal huskies through a pristine snow-covered valley, the only noise the crunch of the ice and the sounds of forest wildlife. Dog sledding excursions teach you how to drive a sled team on your own, and you can even visit the husky farm to learn about how the dogs live and get to know some amazingly athletic Arctic huskies. Follow up your adventure with a hot lingonberry juice by the fire in the lavuu, a traditional Sami herdsman's tent.
Sweden, Norway, Finland, and Denmark all offer a wealth of traditional winter activities as well, of course. Norway in particular boasts some of Scandinavia's best skiing (as well as a museum dedicated to skiing), but Sweden has a number of excellent ski resorts as well. And Copenhagen's Tivoli Gardens turns into a winter wonderland during this season, with thousands of sparkling lights adorning the park and outdoor skating rink.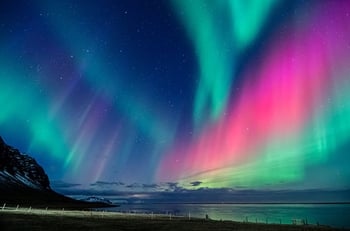 Visitors who venture far enough north may get the opportunity to see the famous aurora borealis, or Northern Lights. This stunning, otherworldly phenomenon is seen primarily near or above the Arctic Circle, making places like Tromso, Norway, Abisko, Sweden, and Rovaniemi, Finland ideal for increasing your chances of seeing the aurora. The lights are most likely to appear on cold, clear nights, which means late fall and winter are the best times to visit if you're looking to catch a glimpse of this marvel.
If outdoor adventures aren't your speed, there's plenty to do in Scandinavia's beautiful cities. In Stockholm, don't miss the Vasa Museum, Royal Palace, and Östermalm Food Court, while in Oslo, the Norwegian National Gallery, Viking Ship Museum, and Norwegian National Opera and Ballet are must-sees. Helsinki features distinctive architectural offerings, from the graceful neoclassical Helsinki Cathedral to the stunning, partially-underground Temppeliaukio Church. Copenhagen is the perfect place to experience hygge, the uniquely Danish flavor of cozy contentment. Relax in a hot sauna, enjoy a warm cinnamon bun and coffee at a cozy cafe, or immerse yourself in culture at the National Museum.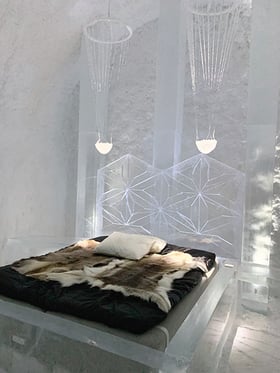 For a unique experience, channel your inner Queen Elsa and stay at an ice hotel, sleeping in a thermal sleeping bag atop reindeer hides, surrounded by walls and ceiling made entirely of ice and snow. The original Icehotel in Jukkasjärvi, Sweden has further elevated the concept, with deluxe suites that feature gorgeous, intricate artwork carved into the walls, unique not only to each room but to each season, as the rooms melt and are rebuilt every year. Most ice hotels also offer conventional warm rooms if you prefer to brave the cold for only one night.
Not only are there incredible adventures to be found in Scandinavia in the winter, you'll also avoid most of the crowds and find lower rates than in the summer high season. And now is the best time to book -- see some of our featured trips below, or call us to arrange a customized trip.


---
Ready to go? See some of our best suggestions for an extraordinary winter adventure.
Chase the Northern Lights: Norway and Sweden
Experienced guides lead you on a chase for the legendary Aurora Borealis through pristine, snow-covered lands. Learn about the science and folklore behind the otherworldly phenomenon, including a photography lesson focused on getting the perfect shot of the northern lights.
Discover this exciting, modern capital full of surprises; explore fjords, taste creative Nordic specialties, sample the city's artistic treasures, and enjoy a sail back into Viking history.
Enjoy the urban epicenter of Finland, Helsinki, before venturing into the frozen landscape of Lapland to Rovaniemi and Kemi for the opportunity to visit Santa, take a reindeer safari, and meet friendly, energetic sled dogs.