Turkish tea is a type of black tea that is consumed extensively in Turkey. It is traditionally brewed in a double teapot known as a "çaydanlık," and served in small, tulip-shaped glasses. The tea is often sweetened with sugar and served with breakfast, as a mid-morning or afternoon pick-me-up, or after meals. It is a staple of Turkish culture and hospitality, and drinking tea together is a common way for friends and family to socialize.
Here is a brief overview of Turkish Tea: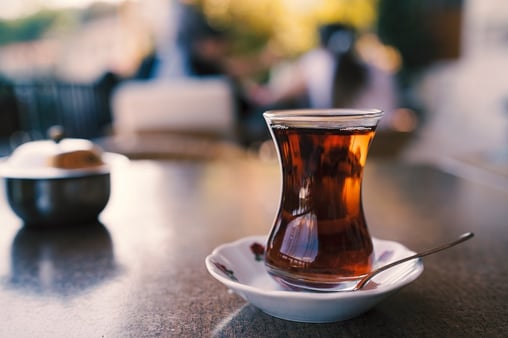 Origins: Tea was first introduced to Turkey in the late 19th century and quickly became a popular beverage.

Preparation: Turkish tea is traditionally prepared using two teapots, one filled with boiling water and the other with loose tea leaves. The tea is poured back and forth between the two teapots to create a frothy and strong tea.

Culture: Drinking tea is an important part of daily life in Turkey and is often offered as a sign of hospitality. It is typically served with sugar and accompanied by small sweets.

Variations: In addition to traditional black tea, Turkish tea can also be prepared with added herbs and spices such as mint or cinnamon.

National Symbol: Turkish tea has become a symbol of Turkish culture and is closely associated with the country's social and cultural identity.

Export: Turkish tea is widely exported and is known for its strong flavor and high quality. It is widely available in Middle Eastern and Mediterranean countries, as well as in Turkish communities around the world.

Learn more about Turkey travel


Keytours Vacations travel packages are fully customizable. Add a day, a week, a sightseeing tour, another destination or let our expert travel consultants design something truly unique. Browse our website for great ideas or schedule a consultation with one of our expert travel consultants.
---
Choose Keytours Vacations, your experts in personalized travel experiences, and make your next vacation one to remember! Customize your vacation or choose one of our packages!
Ready to travel? Start planning your vacation with Keytours Vacations, your expert in personalized travel experiences.


or