If you're heading off to Spain on your next vacation, you've already taken a great first step. Now it's time to plan. If you're anything like me, you are immediately looking up the best foods to try. From there, you'll make your way to the nearest restaurant to try the best of Spanish Cuisine.
In a country known for its fantastic and inspirational cuisine and outstanding wine production, it's tough to know where to start. We're here to help with four of Spain's most popular and traditional spanish food by region that you won't want to miss during your travels.
Tapas - Andalusia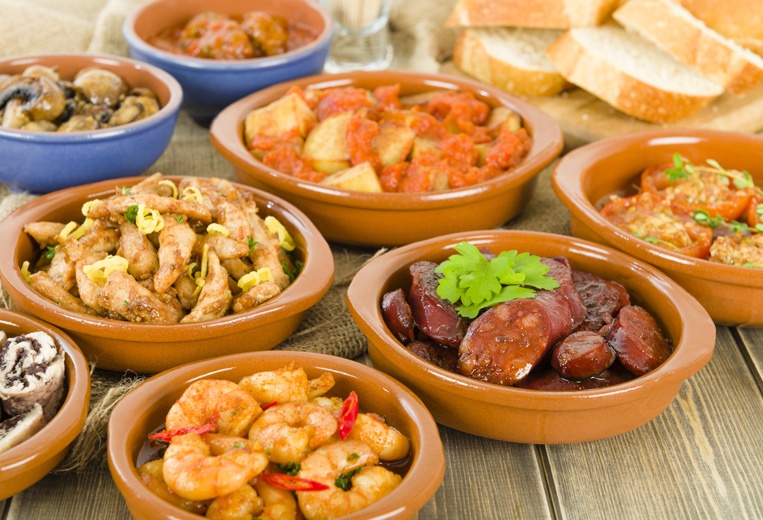 Most of us associate tapas with small portions of food, deliciousness and Spain - which are all facts. What most of us don't know is how tapas came to be.
Tapas were first created in the Andalusian region of Spain. The word "tapas" translates to "cover" or "lid" which represented the saucer which was placed over a glass of wine to keep fruit flies out. In an attempt to attract more consumers and provide a fun food and wine experience, wine bar owner's began creating small bite size foods to place on the saucers. As the trend gained popularity, wine bar owners began to up their tapas game by creating a variety of innovative bite size snacks for their patrons.
Tapas are typically enjoyed before lunch (1-2pm) and dinner (8-9pm) or in various bars to accompany a glass of wine or beer. Some popular tapas you absolutely should experience in Andalusia are:
Patatas Bravas - crispy potatoes in tomato sauce and aioli
Gambas al Ajillos - shrimp cooked in olive oil and seasoned with garlic, dry sherry, paprika, lemon juice and parsley
Calamares - rings of battered squid
Chorizo al vino - chorizo sausage slowly cooked in wine
If you're passing through, you'll regret not trying one of these top 5 tapas bars in Andalusia.
Manchego Cheese - La Mancha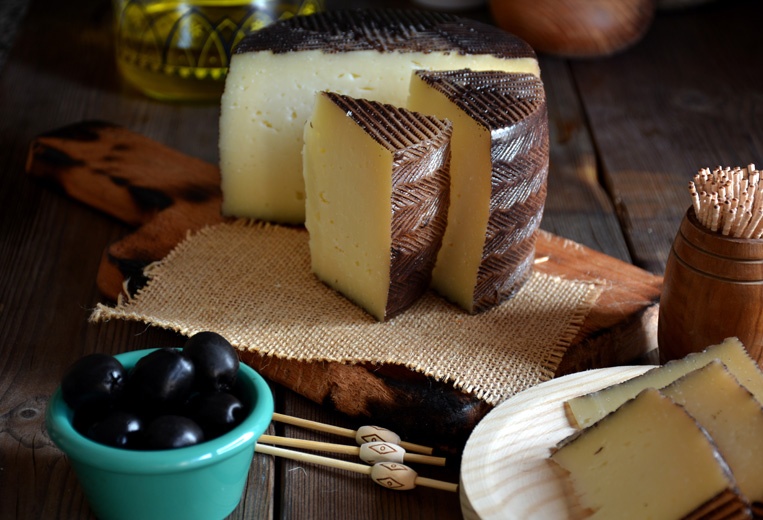 Here's one for all my cheese lovers. Manchego cheese is gifted to us from the La Mancha region of Spain. This sheep's milk cheese generally has a semi-soft texture and can be described as having a sweet and nutty taste. Manchego is primarily served as a starter or as tapas paired with Chorizo. Manchego cheese is known to pair well with a variety of foods and drinks. Here's a guide on how to pair your Manchego cheese.
---
Special offers: Book by April 30, 2016 and Save up to $150 per couple on travel to Spain. Experience Madrid, Barcelona, Seville, Granada, Valencia, Cordoba, Toledo & More!
7 Day Spain Panorama from $1,335
10-Day Classics of Spain from $1,340
Call (800) 576-1784 for a free consultation today!
---
Chorizo - La Rioja
A common misconception of Chorizo is that it derives from Mexico. In actuality, there are different varieties of Chorizo, one of which hails from the La Rioja region of Spain. The Spanish Chorizo bears no resemblance to the Mexican variety.
Fun Fact: Chorizo Riojano holds a PGI (protected geographical indication) within the EU designating that the food item genuinely originated in the La Rioja region.
Chorizo Riojano is made from coarsely chopped pork and pork fat and traditionally seasoned with pimentón (a smoked paprika) and salt. It can be categorized as spicy (picante) or sweet (dulce), depending on the type of pimentón used. A general way of distinguishing is that long, thin chorizos are sweet while shorter chorizos are on the spicier side - although this isn't the case 100% of the time.
Chorizo is often eaten by itself or with cheese and bread but can be found as an ingredient in many other dishes. The lean varieties are eaten at room temperature and commonly used in tapas while the fattier varieties are used for cooking. Here's a recipe for a dish for which to be on the look out: Patatas a la Riojana (Rioja-style potato and chorizo stew).
Paella - Valencia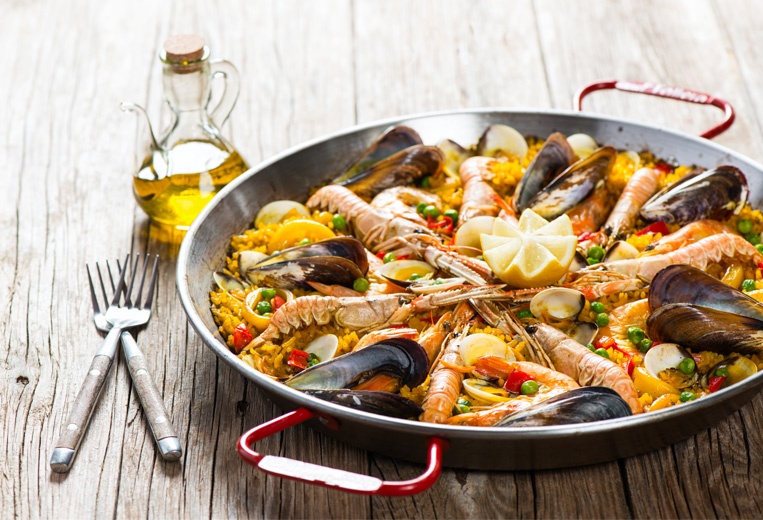 As the principal rice-growing region of Spain, it's no wonder that Valencia is home to one of the most famous and traditional Spanish dishes - paella. Paella is often viewed by many as Spain's national dish. There are four common types of paella:
Valencian (paella valenciana)
Vegetarian/vegan (paella de verduras)
Seafood (paella de marisco)
Mixed (paella mixta).
Valencian paella is considered the original recipe which consists of white rice, green beans, meat (chicken or rabbit), white beans, snails and seasoning such as saffron and rosemary. Vegetarian paella is exactly as it sounds and includes many beans and vegetables. Seafood paella includes ingredients such as clams, muscles, shrimp and omits beans and green vegetables. Mixed paella is a free-style combination of meats, vegetables and beans. All paella include rice and olive oil.
While Paella can be found throughout all of Spain, you'll experience the real deal by ordering this large comfort meal in Valencia. Check out Travel and Leisure's suggestions for Valencia's best paella restaurants!
A travel experience to Spain which includes all of the above traditional dishes is a travel experience done right. If you're looking for a simple add-on experience such as an authentic Spanish cooking class or a more in-depth culinary experience in Spain, you can check out our Spain food and wine packages or you can contact us at (800) 576-1784 for more information on our food and wine Spain packages!