Many believe to truly experience a new culture one must eat the way the locals do. One of the best ways to accomplish this is street food. Not only is street food quick and convenient, it is also rich in flavor and can be easy on the wallet. In this article, you will find our top recommendations for street foods in Morocco for both the adventurous eater and those with simpler tastes.
---

---
Though street fare is abundant in busy city centers and squares, they can often be difficult to find in smaller towns and villages unless you know what to look for. Take a trip with us through Jemaa el-Fna where all of Morocco's street food favorites can be found. Step away from the brightly colored cafes and tagine laden menus and discover the true local flavors of Morocco with these recommendations.
---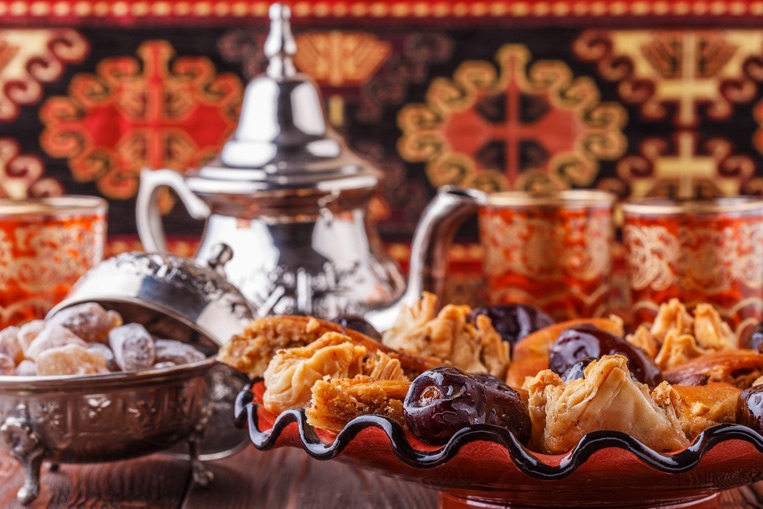 ---
Snail Soup – "Ghoulal"
Snails are a common street food in Morocco. They are often served steamed or grilled, but can also be found as the main ingredient of a spicy broth soup known as Ghoulal. The traditional way to eat this dish is to pluck the snails from the shell with a toothpick then drink the broth which is said to have healing properties.
---
Tip: You can find food stalls in the market during the day, but the real magic happens at night. Around 5 p.m., men with metal carts can be seen filling the square preparing for the evening rush. This is when you can find the largest variety of flavors.
---
Bocadillos
A simple yet flavorful dish, bocadillos is particularly popular in Marrakech as either a sandwich or a platter. You can find this dish made with a variety of different meats and starches, sauteed or grilled, but always served with a side of fries.

---
Nouget
One common site throughout Morocco are stands and shops selling a large variety of different flavored nougat. This sweet and chewy confection is not unfamiliar to us; however Moroccan's take the candy to a new level by adding nuts, dried fruits and seeds to the mix.
---
Tip: Not sure where to eat? That's OK, like with many foreign travelers, figuring out what to eat and where to eat it is a daunting task. The best rule of thumb: "When in Rome." Figure out where the locals are eating. Not only will you find the most authentic flavors, but you're likely to find the best price that way as well.
---
Khlii
For the more adventurous foodie traveler, khlii is a common staple in Moroccan street fare. The dish consists of thin strips of meat – typically beef, but camel is not unheard of – seasoned then sun-dried until the texture resembles jerky. Once the meat is properly dried, it is cooked down in animal fat and allowed to cool. The meat is left in the congealed animal fat and can keep for up to 2 years at room temperature. Most commonly, this dish is served scrambled with eggs.
---
Sardine Kefta
The word kefta refers to any meat that has been chopped and mixed with spices. While beef is the most common form one will find while sampling street foods, sardine kefta is worth the search. Made with chopped, grilled sardines then stuffed inside a loaf of bread with olives, parsley, onions and garlic, this sandwich is flavorful and good for a meal on the run.
---
Tip:
While you will find stalls selling seafood around Marrakech, do remember that the city is not close to the ocean. Use caution and your best discretion when determining the freshness of any seafood you consume.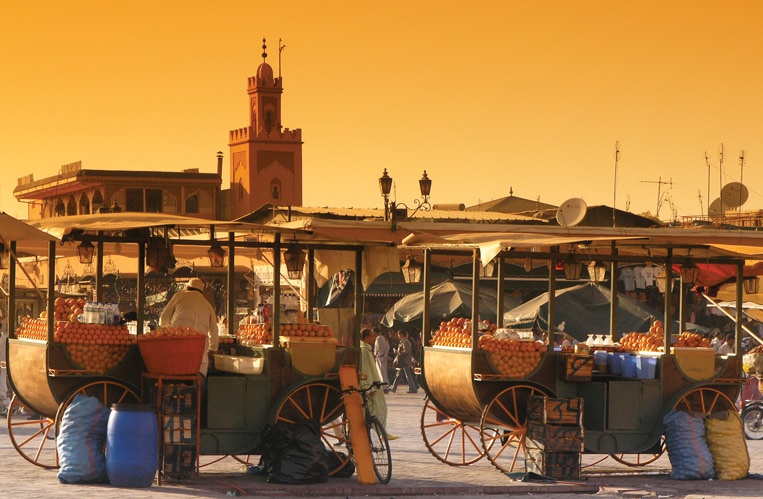 ---
Sfenj



Nothing beats deep fried dough with a crispy outer shell and soft, warm insides. Known as the "Moroccan Beignet," this treat is typically sold in large quantities and served at the home with powder sugar, jam or honey. As a quick bite on the run, you can try sfenj with an egg cracked in the center and fried.
---
Mechoui
With refrigeration an uncommon luxury in many parts of Morocco, the local cuisine has developed ways of keeping meat fresh longer without cooling. One way is a simple slow-roast, called Mechoui. The un-spiced meat is slow roasted, often whole, in a clay oven. Once ready to serve, it can be shredded or pulled and topped with salt and cumin for flavor.
---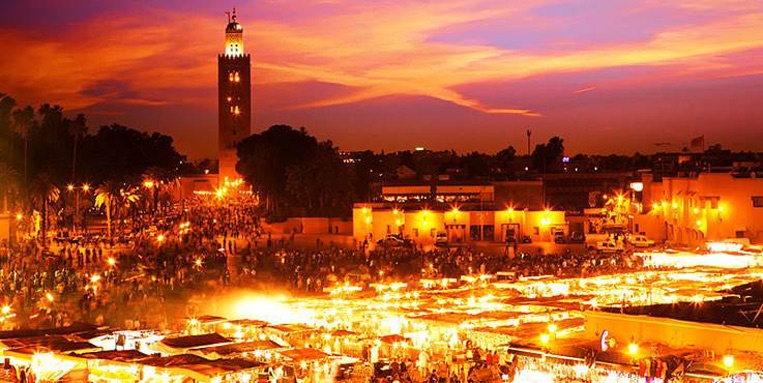 ---
Harcha
Cakes and breads abound in Moroccan street food and can be found on every corner and outside every shop. Each one has its own flavor and texture, such as harcha. This pan-fried semolina cake is often compared to corn bread and is a popular choice at tea-time and breakfast.
---
Tip: Be wary. Many stall owners employ touts to wrangle tourists to their establishment. They are everywhere and will often make it difficult to refuse, however, if you stand back and - against your baser instincts - ignore greeters, you'll be able to choose your own stall and the experience you wish for without feeling influenced or pressured.
---
Maakouda
Deep fried potatoes. Most cultures in the world have developed a unique way of preparing this favorite. In Morocco, deep fried potatoes are known as Maakouda. The potatoes are mashed and mixed with turmeric, cilantro, garlic and onions, formed into a cake then fried. They are typically served in a paper cone with a tomato and harissa based sauce or as a sandwich filler.
---
Tip: Wash up before eating! The most common cause of an upset stomach when traveling is improper hand washing. All vendors are licensed to sell food in Jemaa el-fna, so do your part to stay healthy and wash your hands first.
If you want to try any of these delectable treats, check out this great vacation!

8 Days - Morocco Panorama Small Group Tour from $ 1,795
Casablanca, Fes, Marrakech, Rabat
---
---