Planning a family reunion? Whether your family travels together every year or you just want to catch up after COVID, this travel destination list offers several hot destinations for your next family reunion.


Keytours Vacations travel packages are fully customizable. Add a day, a week, a sightseeing tour, another destination or let our expert travel consultants design something truly unique. Browse our website for great ideas or schedule a consultation with one of our expert travel consultants.

Niagara Falls, Canada and USA


Niagara Falls is a signature Canadian vacation destination for couples and families alike; grown ups have upscale hotels, modern casinos, nightlife, concerts, fine dining, golf courses, spas, and wine country is just down the road. For children, there are theme parks like Marineland, Clifton Hill or Street of Fun, indoor water parks, Ferris wheel, Hornblower Niagara Cruises and Journey Behind the Falls. There are plenty of ways to experience this great wonder of the world.
What makes Niagara Falls a great Family Reunion Destination?
Niagara Falls really does offer a little something for everyone! Modern casinos, nightlife and golf courses for the adults and theme parks for the kids...all set to the backdrop of the beauty and awe-inspiring Niagara Falls.

Travel to Niagara Falls
Few cities match the iconic status that Paris boasts in the imagination of travellers. In fashion, gastronomy, and the arts, she is queen. As you visit the different quartiers of the City of Light, her moods shift from gritty to sophisticated, from Haute Couture to punk. There is always something new to discover in Paris beyond the legendary sights and museums we all know so well. This fabled city has a way of getting under your skin and feeling instantly familiar to all who wander her hypnotic streets and linger at her inviting cafes.
What makes Paris a great Family Reunion Destination?
Paris is truly one of the most iconic cities in the world. Bring your family to Paris to enjoy the arts and culture, the beautiful parks and gardens, the food, the architecture. This family reunion destination is sure to inspire - from the littlest of travelers to the oldest!

Travel to Paris, France
Tuscany, Italy


Home to Chianti wine, the Medicis and the Strozzis, Michael Angelo's David, Elba Island where Napoleon was exiled, and the legendary cities of Florence and Pisa, Tuscany is the fertile crescent of Italy where art, history and the pleasures of life shine on. Evergreen landscapes and breathtaking sights serves as cradle to the Italian culture and civilisation to thrive, and it remains today as one of the most appreciated Italian regions - one where the visitor might need to pinch on their arm to know they are not dreaming.
What makes Tuscany a great Family Reunion Destination?
Rent a villa, experience the birth of the Renaissance first hand, visit quaint hilltop villages, snap a photo at the Leaning Tower of Pisa, take an Italian cooking class or ride vespas through the Chianti countryside...Tuscany offers a perfect backdrop to your family reunion!
Dubai, UAE


Dubai has transformed from a humble fishing village to one of the most cosmopolitan and innovative cities in the world today. Tracing its origins back to 3,000 BC, Dubai's inhabitants made their livelihood from fishing, pearl diving, boat building and sea trading, before the discovery of oil in the late 1960s. In 1971, Dubai joined its neighbors to form the United Arab Emirates, safeguarding the area's prosperity.
What makes Dubai a great Family Reunion Destination?
Dubai is a playground for the old and young alike. Host your family reunion in Dubai for over-the-top excitement and experiences.


Travel to Dubai
California, USA


Put your sunglasses on and roll down the windows: this is the California road trip you've always dreamed of. Hop on an iconic trolley in San Francisco, exploring the charming coastal towns of Monterey, enjoy fresh seafood on a sun-drenched pier in Santa Barbara, get a taste of Hollywood glamour in Los Angeles, and feel the Pacific breeze in your hair as you coast down the scenic Highway 1 with its dramatic cliffs, towering redwoods, and endless possibilities.

What makes the California Coast a great Family Reunion Destination?
Take your family reunion to the road with a coastal tour of the California Coast. Scenic vistas, arts and culture, amazing seafood and the sprawling beaches make this destination perfect for your next family reunion!

Travel to California with our California Coasting Itinerary


Maui, Hawaii, USA


Initially the island of tribes with mysterious history, Maui, the second largest in the Hawaii archipelago, has become an immensely popular tourist attraction where everyone can find something to their taste. Whether you hike in mighty Haleakalā or take the Road to Hana on its eastern side, or sip on your cocktail at one of the pristine beaches of western Ka'anapali or Wailea, Maui will surely spoil you with unforgettable natural beauty.
What makes Maui a great Family Reunion Destination?
If your family likes beach, sun and a tropical setting, Maui would make an excellent family reunion destination. Play a round of golf, take in a luau and relax on the beach!
The Greek Islands


Ancient history, beautiful blue islands, Mediterranean cuisine—experience it all. Explore Athens and see the Acropolis. Stroll through the cobbled streets of Mykonos, visit Delos and enjoy a glass of wine on the cliffside of Santorini with a panoramic view of the Aegean below.
What makes the Greek Islands a great Family Reunion Destination?
The Greek Islands offer a perfect backdrop to your family reunion. Enjoy breathtaking scenery, ancient history and excellent food!

Travel to the Greek Islands



Las Vegas, Nevada, USA


Las Vegas is a dazzling sea of neon lights that beckons visitors with luxurious accommodation, unbelievable shows, exquisite restaurants, world-class gambling, and decadence on a grandiose scale: it is ancient Rome, romantic Paris, exotic Egypt, exciting New York City, and the Canals of Venice all together rolled into a single vacation destination. Millions of people fulfil their dream of vising Las Vegas every year, and as to its manifold shape, it is not difficult to see why it has earned the title of the world's Entertainment Capital.
What makes Las Vegas a great Family Reunion Destination?
If your family likes to party, Las Vegas would be a great choice for your family reunion. With plenty of shows, attractions and eye candy...not to mention the world-class food options and the casinos.
Bahamas


The Bahamas archipelago is an ecological oasis sprinkled over 100,000 square miles of ocean, starting just 50 miles off the coast of Florida. It comprises 700 breathtaking islands, over 2,000 rocks and cays, and boasts the clearest water on the planet—with a visibility of over 200 feet. You can see your toes as easily as you can the world's third largest fringing barrier reef. Explore all of the islands of the Bahamas. One step and you'll realize its beauty extends far beyond its extraordinary natural wonders. It's the smiles on the faces of the Bahamian people. The unique sounds of its rich culture. The warm hospitality of its heritage and colorful history.
What makes the Bahamas a great Family Reunion Destination?
The Bahamas are an excellent sun-and-fun family reunion destination that is sure to please everyone in your family!
Ireland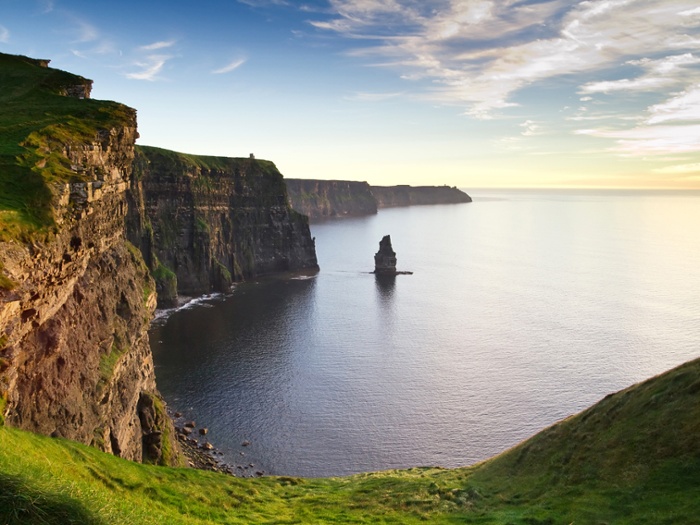 Travel to Europe and explore Ireland's legendary charm. Book your escorted vacation package to this rural nation full of friendly locals and traditional culture. Tour medieval banquets, watch Riverdance-style step dancers and discover town after town filled with brightly painted buildings and crowded streets with cheeky kids. In even the most out-of-the-way pub, you're likely to find someone ready to take time for an amiable chat.


What makes Ireland a great Family Reunion Destination?
Explore your family heritage on your next family reunion in Ireland! Walk in the footsteps of giants at the Giants Causeway, transverse the Wild Atlantic Way, be awed by the Cliffs of Moher, learn about the ancient Celts, the Vikings and St. Patrick, have a pint in Dublin; whether you have Irish heritage or not there is much to do in Ireland!
---
Ready to travel? Start planning your vacation with Keytours Vacations, your expert in personalized travel experiences.


or