Christmas is special to celebrate anywhere, but some places make it especially magical.
1. Austria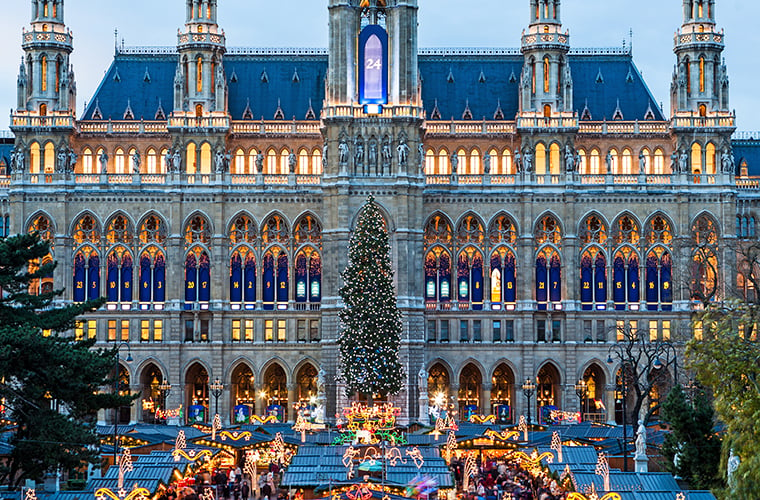 Although Germany is traditionally associated with Christmas markets, Austria actually boasts the first recorded instance of a Christmas market, dating from 1298. Today, Vienna's Christkindlemarkt is one of the largest in Europe, with 200 chalet-style stalls, but you'll also find beautiful markets in Salzburg and Innsbruck. Innsbruck's market features a giant crystal Christmas tree from Swarovski, which is based in the nearby village of Wattens. Salzburg, the city of Mozart, is known for its Advent concerts of traditional folk songs and Christmas carols.



2. Germany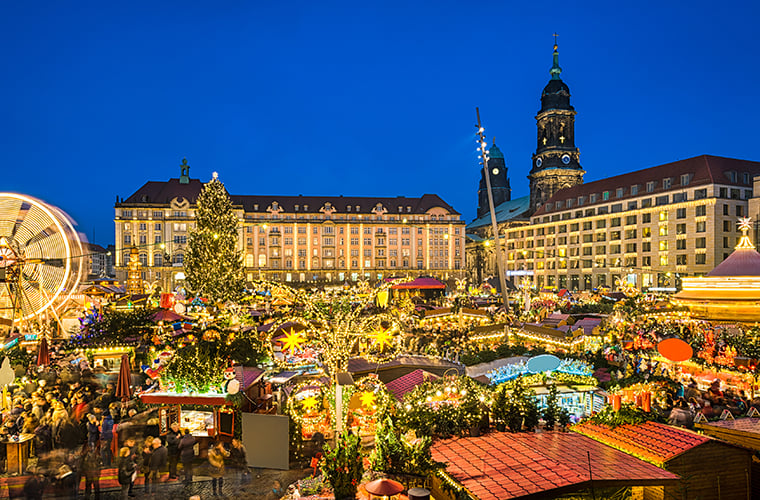 Germany's Christmas markets date back to the 1300s, with Dresden's Striezelmarkt holding the title for oldest continuously running Christmas market. Many markets feature regional specialties; at the Striezelmarkt in Dresden, you'll find wooden crafts from the Ore Mountains, exquisite blown glass from Lauscha, and lace from Vogtland, while in Munich, look for the Kripperlmarkt, an entire market dedicated to mangers, figurines, and other items for nativity scenes, many of which are handmade using traditional methods passed down through generations.
3. Finland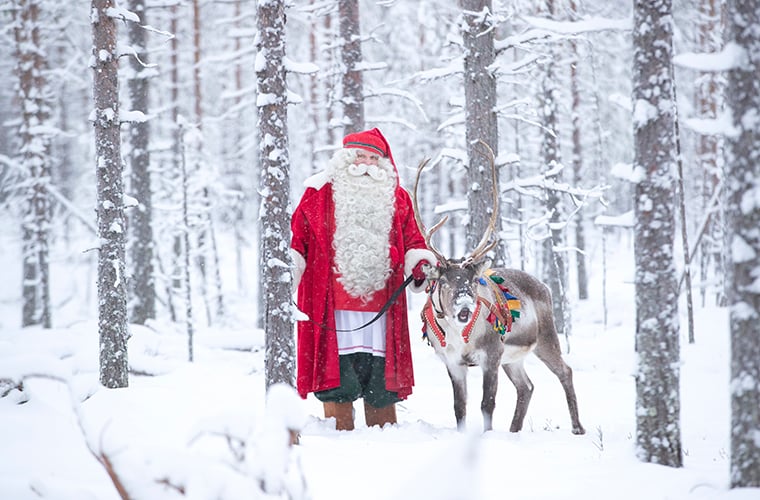 Likely the closest you'll get to a true North Pole Christmas, Rovaniemi, Finland sits right on the Arctic Circle and is known as the Official Hometown of Santa Claus. In addition to meeting Santa himself, the Santa Claus Village features an array of shops and restaurants as well as activities like dogsledding, reindeer rides, ice sculpting and snowmobile tours.

4. Spain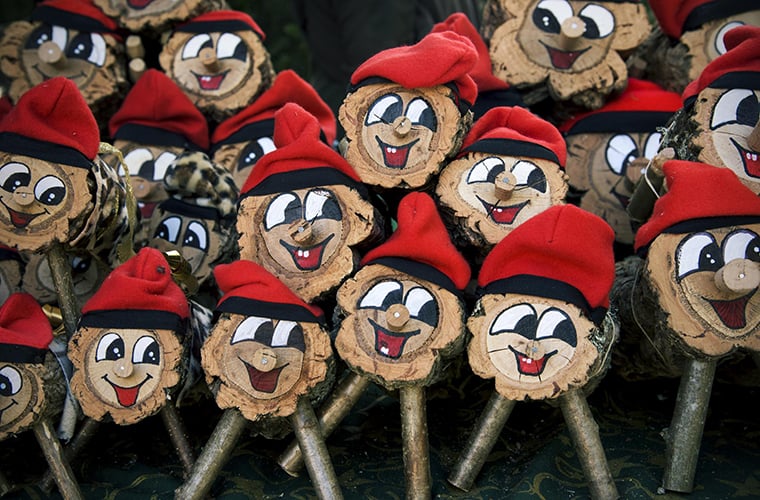 Regional traditions have a strong influence on how Christmas is celebrated across Spain. Barcelona has the offbeat Catalan tradition of Tió de Nadal, a Christmas log that produces treats for children while being hit with a stick, Bilbao celebrates the Basque country tradition of Olentzero, a version of Father Christmas who brings gifts for children, Malaga is known for its famous light display in Calle Larios, and cosmopolitan Madrid often features modern artistic light designs throughout the city. Enjoy one of the many varieties of turrón, the classic Spanish Christmas candy and a glass of sparkling cava as you watch a traditional living nativity scene, known as a Belén.

5. Colombia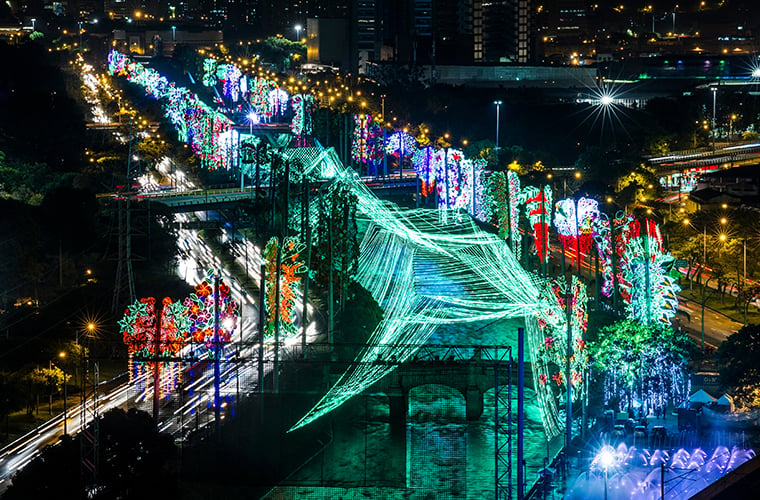 Though you won't find snow here (as the City of Eternal Spring, temperatures sit in the 70s year-round), you'd be hard pressed to find another city that celebrates Christmas as joyfully as Medellin. Christmas brings an extravaganza of stunning light displays across the city, with 40 million lights covering over 100 public parks, along with enormous, elaborate nativity scenes that can feature running water and live plants. Visitors lucky enough to be in Colombia on December 7th will witness El Noche de la Velitas, where thousands of candles are lit on sidewalks, balconies, windows, and porches to light the way for the Virgin Mary.

6. Latvia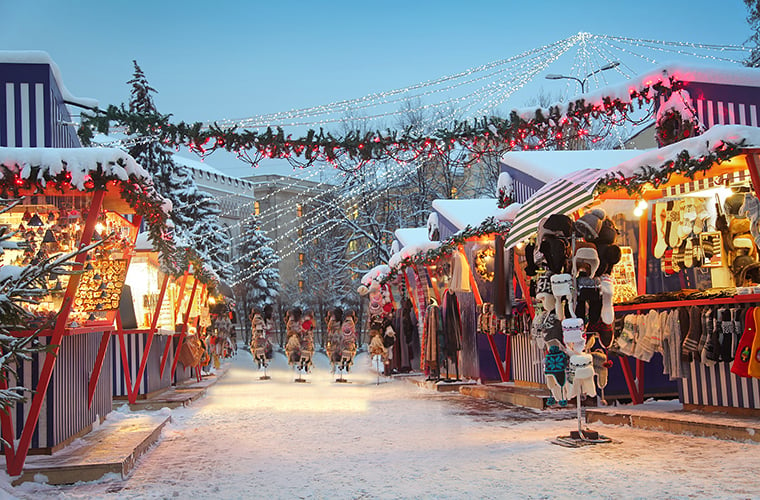 Latvia's capital Riga claims to be the birthplace of the Christmas tree. Historical records indicate that a fir tree was erected and decorated in the public square in 1510 by a guild of professional merchants and traders, and Latvians say this was the very first Christmas tree in the world (a claim that is hotly disputed by neighboring Estonia). A stone plaque marks the spot of this original tree, and every year, a Christmas tree is placed in the same location. Riga also has plenty of charming Christmas markets with traditional Latvian crafts and gifts. Don't miss the Esplanade market where alongside market stalls, you'll find the Rabbit Village, complete with miniature bunny houses and a little bunny church, and inhabited by dozens of rabbits.