One of the most delightful parts of the Christmas season is the charming Christmas markets that pop up all over Europe. The scent of gingerbread, sizzling sausage, and mulled wine wafts through the air and festive music fills the streets as shoppers peruse the wares and children dart through the crowd. Covered stalls featuring all sorts of gifts and holiday decorations are usually accompanied by vendors selling regional food and drink specialties as well as various live performances from singing and dancing to live nativity scenes.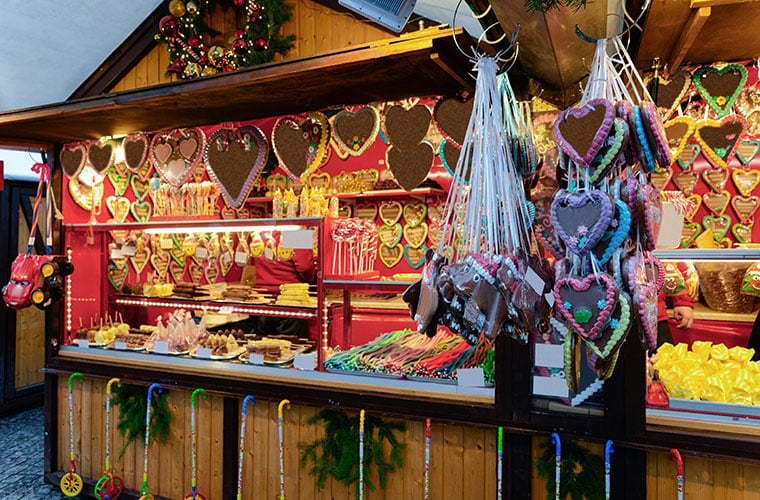 Above: Berlin Christmas market stall
Although Germany is traditionally associated with Christmas markets, Austria actually boasts the first recorded instance of a Christmas market, dating from 1298. Records indicate that during this year, the citizens of Vienna were granted permission to hold an open-air street market during Advent for the townspeople to shop ahead of the cold winter season. After this, more and more Wintermärkte, or winter markets, began to appear in neighboring areas. These markets began to become more specifically associated with Christmas in Germany, where they were called Christkindlmarkt.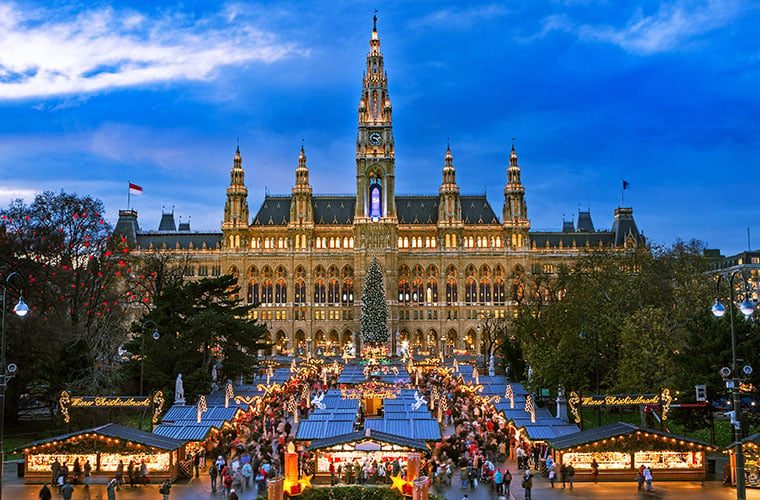 Above: Vienna's largest Christkindlmarkt, on the Rathausplatz
Martin Luther and the Protestant Reformation had a huge impact on the popularity of Christmas markets when Luther suggested that instead of giving children gifts on St. Nicholas's Day, December 6th, it was more appropriate to give gifts celebrating the birth of Christ. This practice became enormously popular and Christmas markets grew accordingly to meet the demand for Christmas gift-giving. In fact, in 1616 in the chronicle of St. Sebaldus Church in Nuremburg, Germany, the parish minister complained that on Christmas Eve he had to cancel the Vespers and afternoon sermon, because "no one was present, as they were all shopping for Christmas gifts".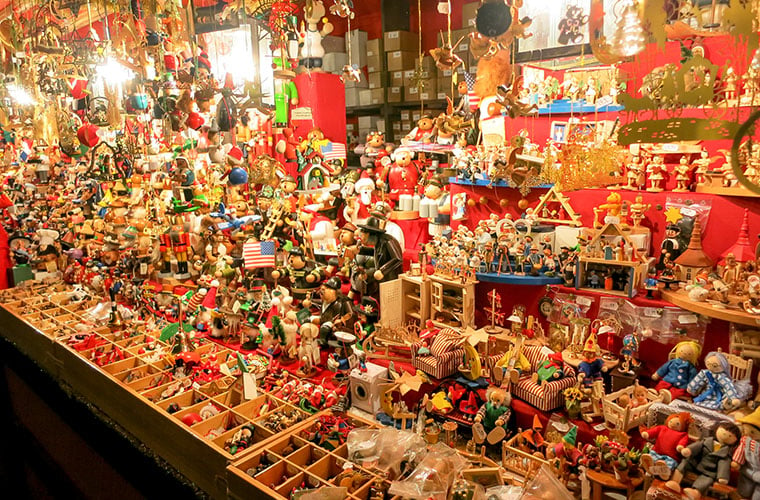 Above: a stall selling wooden toys at the Nuremberg Christmas market
Today, of course, the tradition of Christmas gift-giving remains firmly established, and Christmas markets still provide a charming, old-fashioned way to find gifts and celebrate holiday traditions. Christmas markets have long since spread far beyond their Germanic roots and can now be found throughout Europe, from England to Italy, the Baltics to Spain, and even as far as Singapore which celebrates an extravagant "Christmas Wonderland" with light sculptures and a 7-story high mirror maze.


Experience Christmas markets for yourself this season with our Christmas Market specials!
7 Day Self Drive Germany Christmas Markets: Frankfurt, Rotherburg ob der Tauber, Nuremberg, Dresden and Berlin from $1,319

4 Day Christmas in Berlin and Dresden from $899
4 Day Christmas in Stuttgart, Heidelberg and Baden Baden from $1,069