From Las Vegas to Australia, our list of Hot Destinations for Winter Travel will inspire adventures around the world including warm weather destinations to escape the cold, hidden gem destinations and wintery wonderlands!

Keytours Vacations travel packages are fully customizable. Add a day, a week, a sightseeing tour, another destination or let our expert travel consultants design something truly unique. Browse our website for great ideas or schedule a consultation with one of our expert travel consultants.

1. Las Vegas, USA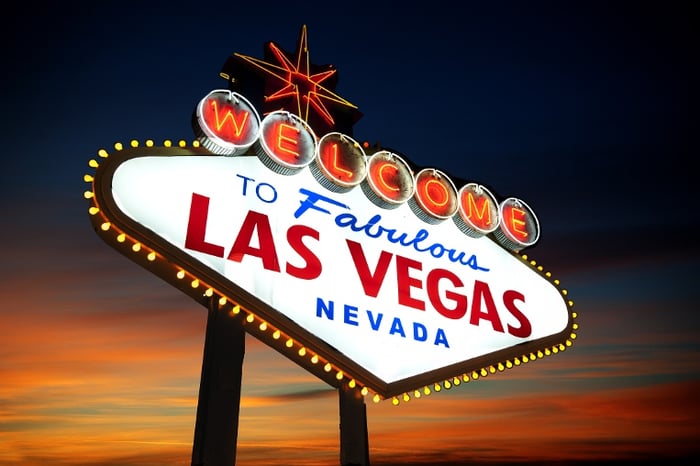 Las Vegas is a dazzling sea of neon lights that beckons visitors with luxurious accommodation, unbelievable shows, exquisite restaurants, world-class gambling, and decadence on a grandiose scale: it is ancient Rome, romantic Paris, exotic Egypt, exciting New York City, and the Canals of Venice all together rolled into a single vacation destination. Millions of people fulfil their dream of vising Las Vegas every year, and as to its manifold shape, it is not difficult to see why it has earned the title of the world's Entertainment Capital.

Learn more about Las Vegas travel


2. Maui, Hawaii, USA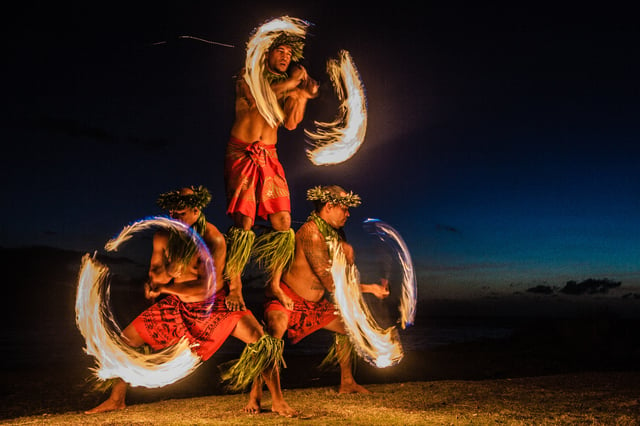 Initially the island of tribes with mysterious history, Maui, the second largest in the Hawaii archipelago, has become an immensely popular tourist attraction where everyone can find something to their taste. Whether you hike in mighty Haleakalā or take the Road to Hana on its eastern side, or sip on your cocktail at one of the pristine beaches of western Ka'anapali or Wailea, Maui will surely spoil you with unforgettable natural beauty.
Learn more about Maui travel
3. Iceland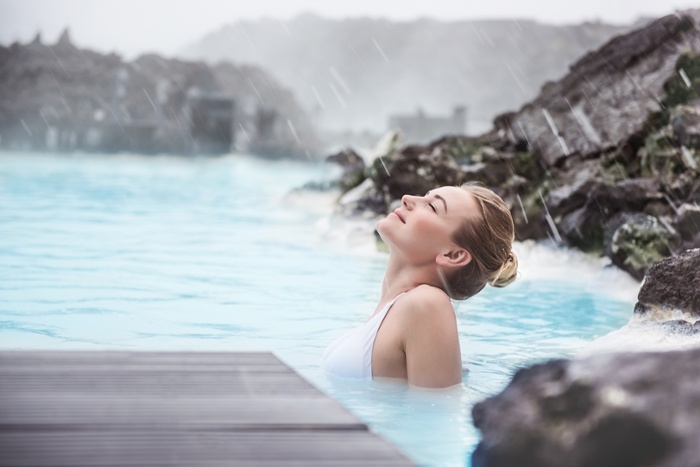 Volcanically active, Iceland is the most sparsely populated country in Europe. Iceland attracts travelers from around the world to its largest and capital city of Reykjavik famous for its nordic culture, hot springs and stunning views of the Northern Lights. One of the most popular attractions for travelers is the Blue Lagoon, filled with 98-102 degree fahrenheit mineral-rich water. It is known for its healing properties due to the natural active ingredients such as mineral salts, silica and blue green algae.

Learn more about Iceland travel

4. Santorini, Greece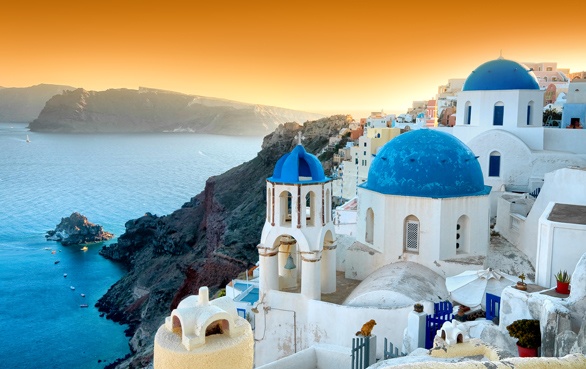 Rising out of the crystalline waters of the Aegean Sea, Santorini's otherwordly volcanic landscape of black and red-sand beaches and enormous caldera meet quintessentially Greek white-washed houses and blue-domed churches.

Learn about Santorini travel

5. Banff National Park, Canada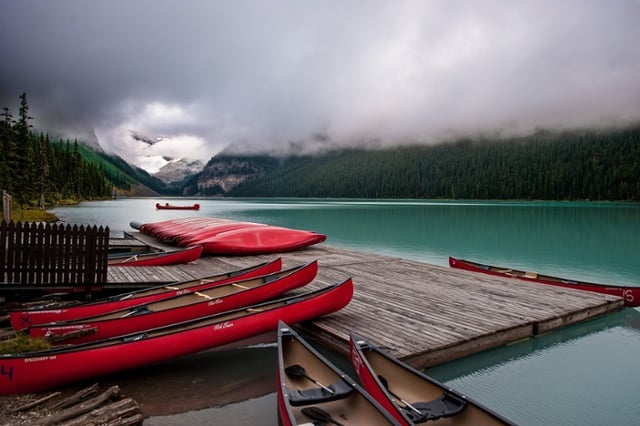 Banff National Park, the gateway to the majestic Canadian Rockies. Saddle up for a horseback tour, join a guided hike to explore and learn, take to the water for a boating or fishing excursion on an alpine lake. Spend some time in the pristine forests, home to an incredible array of wildlife including lynx, caribou, wolves, elk, bighorn sheep and even grizzly bears. Or for a more relaxing experience, indulge in a visit to the Banff Hot Springs to soak in the healing mineral waters.

Travel to Banff National Park with Canadian Rockies


6. Mallorca, Spain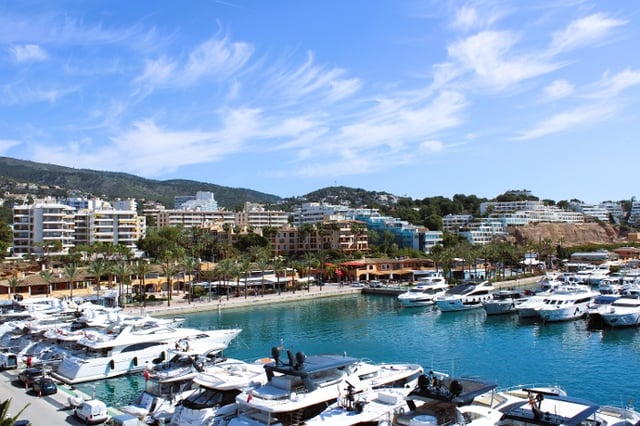 The island of Mallorca combines the scenic beauty of the land and the sea. The coast is blessed with long stretches of sandy beaches, secret coves, and plenty of sunshine. The interior is dotted with picturesque villages steeped in history and the layered heritage of the Romans, Arabs, and Christians who have conquered and settled the area. Rent a bicycle, go sailing or hike through the rugged wilderness.
Travel to Mallorca

7. Kusadasi, Turkey
Kusadasi has something to offer every vacation. With its larger marina and countless incoming and outgoing cruise ships, its an ideal location to catch a ferry and travel to the Greek island of Samos. It is also just minutes away from the ancient city of Ephesus, allowing visitors easy access for tours from land or sea. The nightlife is also very active with numerous bars, discos, pubs and restaurants offering the fun seeker in every group many venues to choose from. Even so, Kusadasi still has an old-fashioned charm that many larger cities lack.

Learn more about Kusadasi travel

8. Salzburg, Austria


Salzburg offers art, culture, historical and modern sights, thrilling events, living tradition, pleasure, relaxation and great food – and nearly all within walking distance. These are all part of the multitude of options open to holidaymakers in Salzburg that guarantee an unforgettable city break at this world cultural heritage site. The city of Salzburg is a stage for over 4000 cultural events every year and is home to around 20 baroque period churches. Salzburg was added to the UNESCO World Cultural Heritage Site list in 1997.

Learn more about Salzburg travel


9. Antigua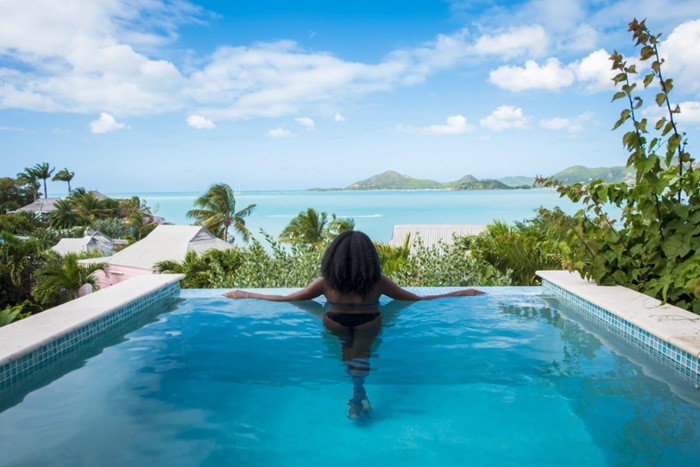 Enjoy colorful coral reefs, Old World charm, and some of the Caribbean's most beautiful beaches on Antigua. Delve into the island's rich history, push your limits with a rainforest zipline or watersports adventure, or simply lay back and savor the sun-drenched sands and crystal-clear waters.
Travel to Antigua with a Taste of Antigua


10. Palermo, Sicily, Italy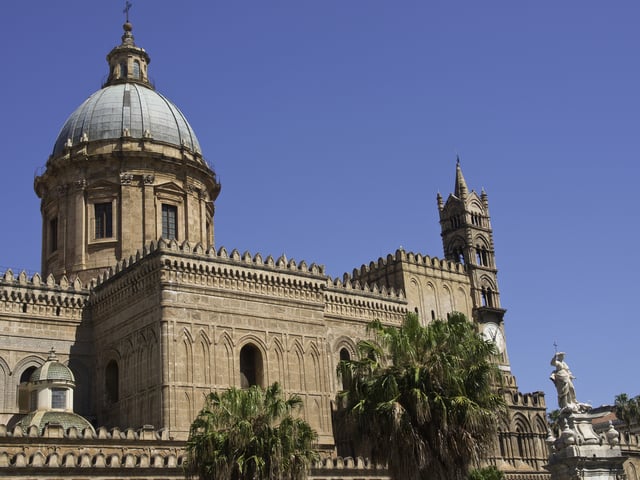 Capital of the beautiful region of Sicily, Palermo is a fascinating hidden gem and a busy port city that brims with energy. Continuously changing, this city has reclaimed its place among Europe's cultural cities. Palermo is full of sights and treasures: from Baroque churches and glorious Norman-Gothic architecture to Art Nouveau villas and lively markets – the flamboyant spirit of Palermo can be found down every corner of the city's chaotic streets.

Learn more about Palermo travel
11. Laos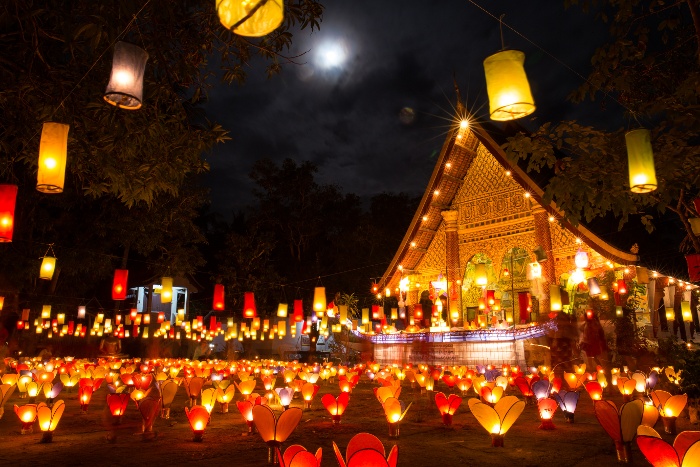 Laos, a land of spiritual reflection and quiet beauty. This small nation in Southeast Asia boasts a mountainous terrain and as the rest of her neighbors succumb to modernity, Laos has managed to hang on to many of the traditions they've honored for centuries. Underground caves, exotic animal watching and Laotian cuisine combine to create a lasting impression on visitors who may believe they understand Southeast Asia, but have never experienced a nation quite like this.

Learn more about Laos travel
12. Melbourne, Australia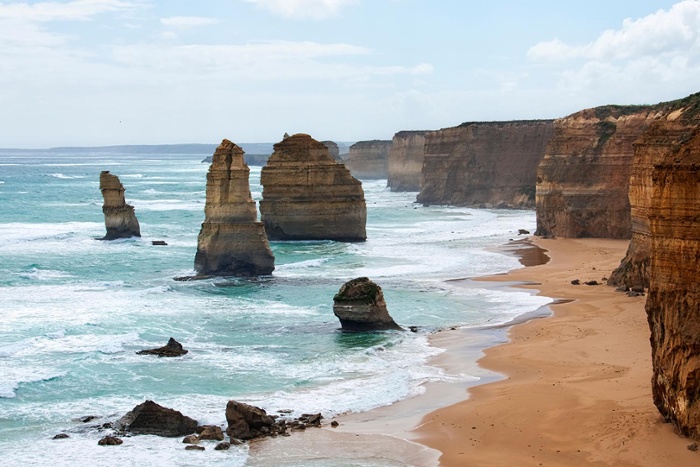 Melbourne is an artistic powerhouse with a vibrant and multicultural soul. Nicknamed "Paris of the southern hemisphere", Melbourne is not only known to be Australia's cultural hot-spot, but is also famous for its major sporting events and its culinary delights from all across the world. With its high-rise city centre and far-reaching suburbs, it is hard not to be dragged in by the life of the capital of Victoria, but day trips to the wild nature of the state are also extremely attractive.

Travel to Melbourne Australia with Taste of Melbourne
13. Wales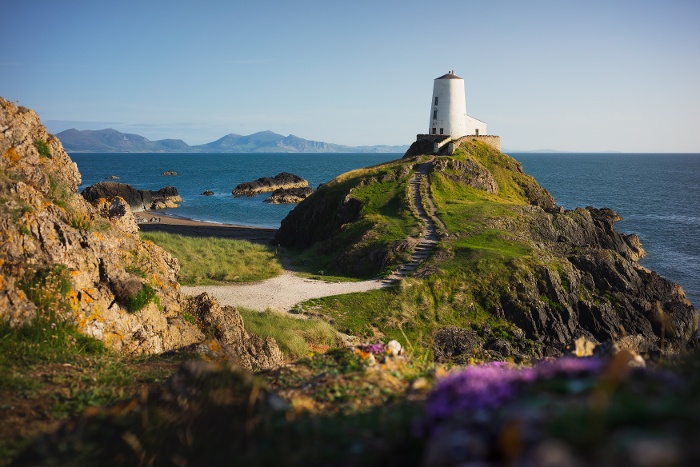 Even among the inhabitants of the Sceptered Isle, Wales is esteemed for its wild beauty, as wild as the red dragon - its national symbol. Wales juts from the mainland of Britain into the Celtic and Irish Seas and is distinguished from England by its Celtic history, language and culture. Tour across Wales and travel from the ancient castles to the craggy mountains. Often referred to as The Land of Song, indulge in the rich musical and lyrical traditions, especially notable for its harpists. It also lays claim to one of the oldest continuous literary traditions in Europe; Welsh poetry having survived from the Dark Ages. Rocky coastlines, quaint fishing villages and sheep-speckled landscapes make Wales a picturesque vacation destination for visitors to the British Isles.

Learn more about Wales travel
14. Venice, Italy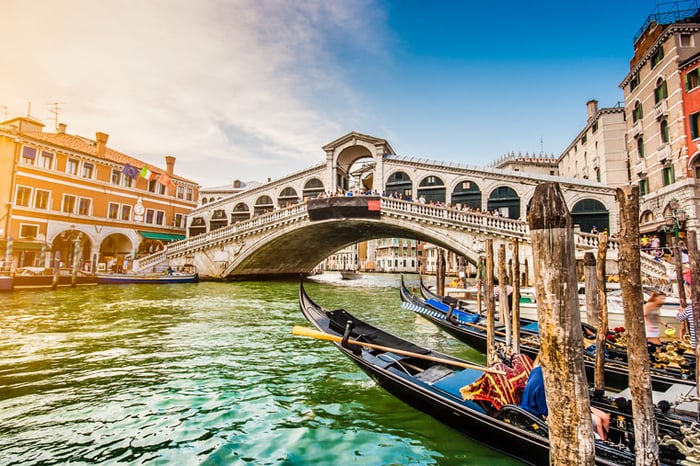 From its unmatched romantic vibes to its historical heritage to its indisputable beauty, there is no other city like Venice. The "Queen of the Adriatic" is composed of a maze of islands, canals, and bridges, which hide magnificent buildings, historical landmarks of great artistic and cultural importance, as well as charming restaurants and squares. There are no cars in Venice, but you won't need them anyway since "The City of Bridges" is best explored on foot.

Learn more about Venice travel
15. Rio de Janeiro, Brazil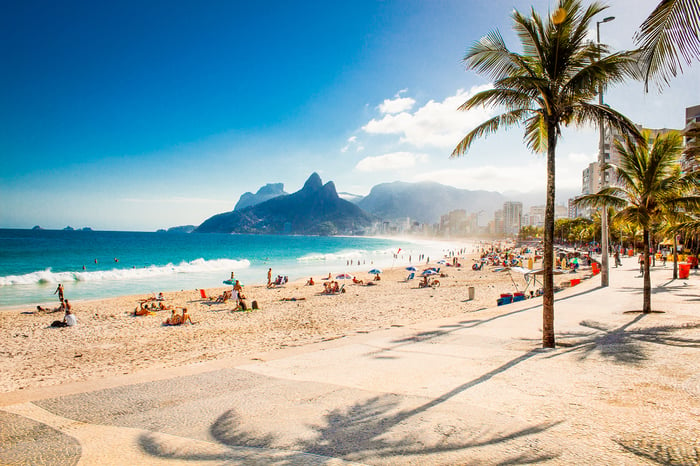 Rio de Janeiro – the city's name alone conjures up images of pristine beaches, lush forests, and thrilling celebrations. Sitting on top of the Corcovado Mountain, Christ the Redeemer watches over the two-faced party capital of Latin America, split between a bustling urban landscape and an outstanding natural environment. Rio is a city like no other, known worldwide for its magnificent New Year firework display on Copacabana beach, its explosive carnival, its joyful people, and exquisite multicultural cuisine.

Learn more about Rio travel
16. Tanzania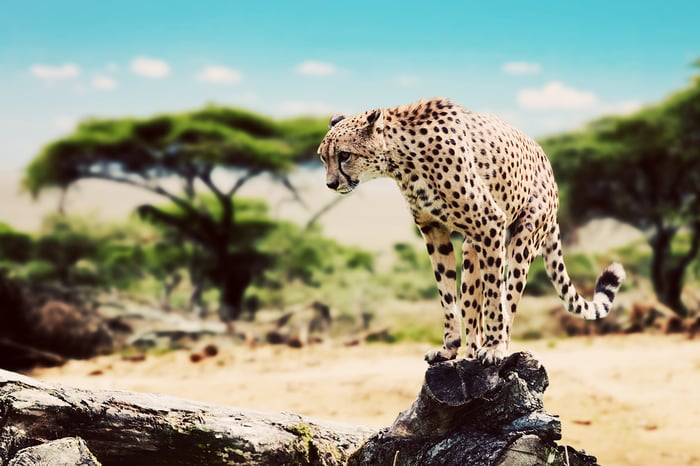 Tanzania may be one of the most diverse landscapes in Africa. From the snow-capped summit of Mt. Kilimanjaro to the crystaline waters of Zanzibar, Tanzania offers a true African experience for every type of traveler. Perhaps the country's most attractive offer is the chance to witness the annual Great Migration when millions of plains animals move through the Serengeti and Masai Mara in search of green pastures. The Zanzibar archipelago is a slice of paradise along the coast of Tanzania with tropical beaches and spectacular seafood, fresh from the Indian Ocean.

Learn more about Tanzania travel
17. Bruges, Belgium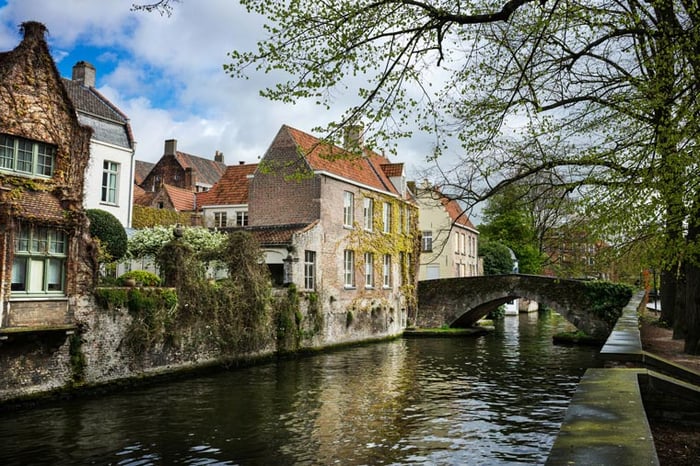 Places that stir all your senses and that pluck your heartstrings are extremely rare. These are the places that touch you deeply, yet whose secrets you can't unlock completely. Bruges happens to be such a unique place. Cultural and artistic, cosmopolitan, unashamedly Burgundian, mysteriously medieval, and a Unesco World Heritage site to boot. Strolling along the narrow alleys, picturesque canals and verdant ramparts you cannot help but fall hopelessly in love with its elegant mysteriousness

Learn more about Bruges travel
---
Choose Keytours Vacations, your experts in personalized travel experiences, and make your next vacation one to remember! Customize your vacation or choose one of our packages!
Ready to travel? Start planning your vacation with Keytours Vacations, your expert in personalized travel experiences.


or