Discover the best of Spain in our "Things to do in Spain: Barcelona Highlights" blog. Take a tour through beautiful Barcelona City and find yourself walking along the narrow lanes of the Gothic quarter, exploring the many museums featuring artists such as Miro and Gaudi, indulging in the local cuisine, or enjoying a variety of Barcelona tours. See below for more reasons to visit magical Barcelona City.
1. Park Güell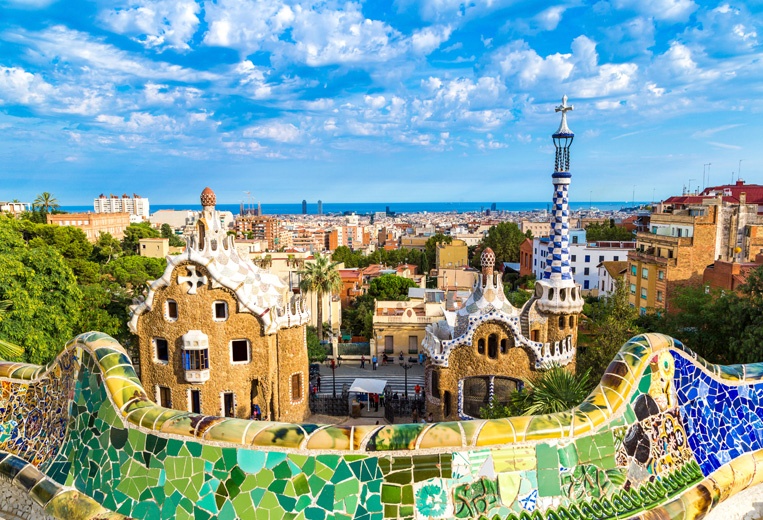 Park Guell is a public park designed by Antoni Gaudi, a renowned architect of Catalan modernism. Take colorful photos of Gaudi's mosaic work on the main terrace which incorporates motifs of Catalan nationalism.
---
2. Local Cuisine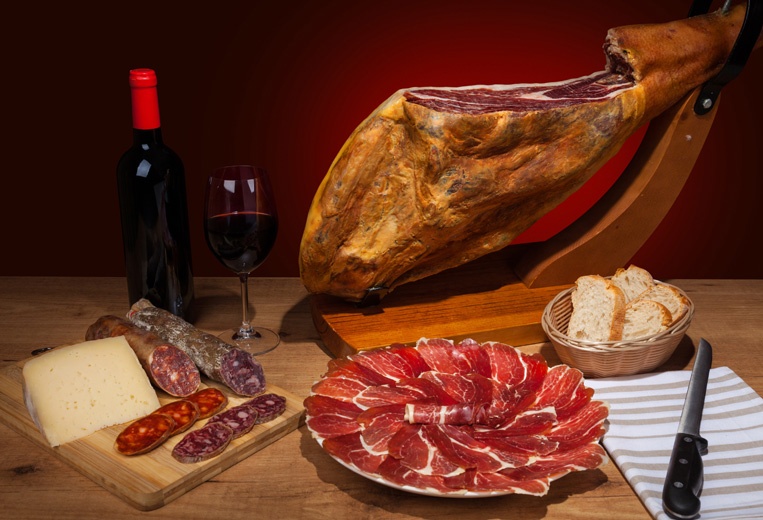 Indulge in the local cuisine of Spain including mouth-watering embutidos y butifarras (meats and sausages), escudella - a hearty Catalan stew, and local Catalan wines.
---
3. Sagrada Familia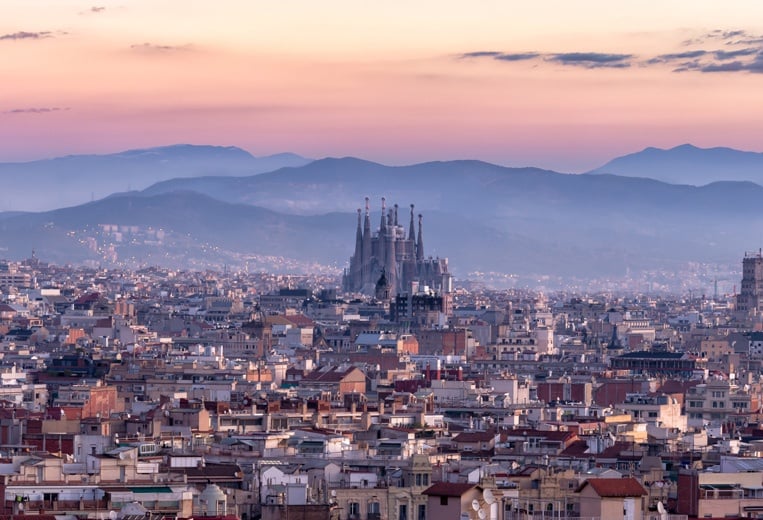 Sagrada Familia is a large Roman Catholic Church designed by Antoni Gaudi based on the traditions of Gothic and Byzantine architecture and modified to offer a new architecture. Explore on your own or take a specialized guided visit.
---
4. Gothic Quarter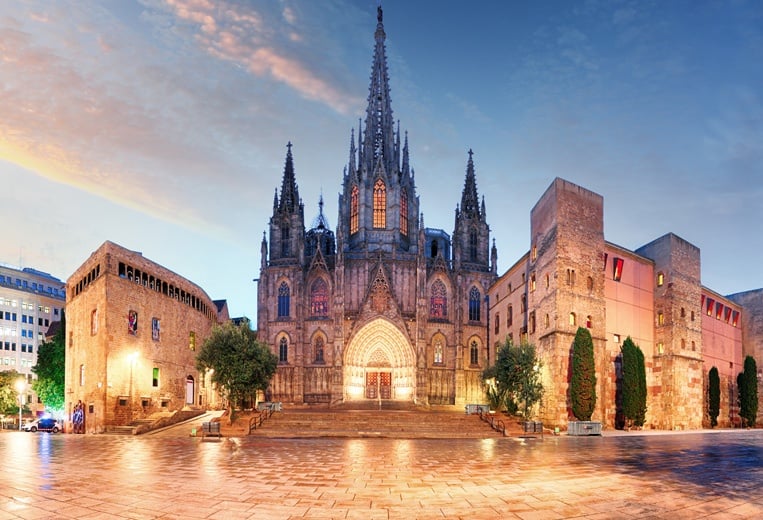 Wander the Gothic Quarter in the center of the old city of Barcelona where many buildings date from medieval times. Walk around the La Seu Cathedral with its impressive interior, take a Gothic Quarter Walking tour, or catch the jaw-dropping phenomena of human castle building (Castellers) during the La Merce Festival in late September.
---
5. Via Laietana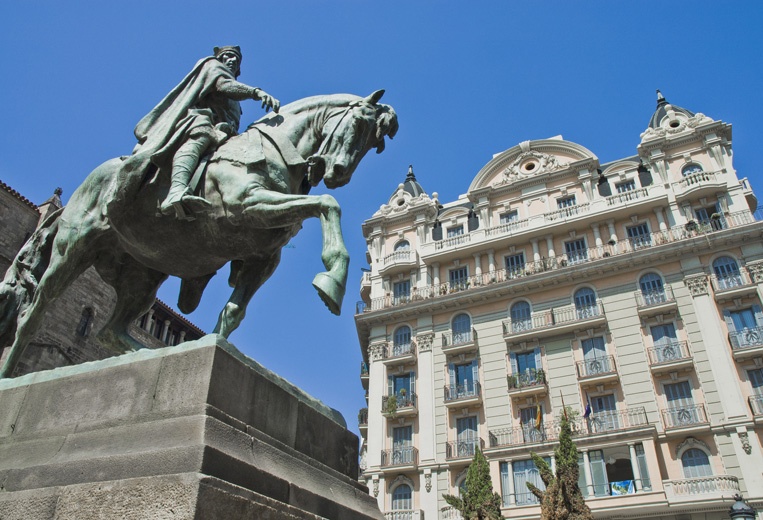 Via Laietana is a major thoroughfare in Barcelona Monument. Enjoy the picturesque sights such as the statue to Ramon Berenguer the Great who lead the Christian fleets which conquered Ibiza and Mallorca in 1114. Also explore Las Ramblas (Barcelona's most famous boulevard where you will find street performers, interesting shops, and great restaurants), the Barcelona Cathedral, and the Picasso Museum.
---
Other Spain Packages
---
Experience the best of Madrid, Andalusia, and Costa del Sol with our 8-Day Spain Highlights from $1,499 with Air Multi-City Escape

Experience the culture, art and cuisine of Spain with visits to Madrid, Costa del Sol, Seville and Cordoba. Join an optional tour in Madrid and visit the Reina sofia Modern Art Museum displaying Picasso, Dali and Miro works. Next enjoy an escorted tour to Andalusia where you will travel along the land of Don Quixotte's "The Man from La Mancha."Finally, enjoy Ronda and the Costa del Sol. Check into your beach front hotel and relax and enjoy the wonderful beaches or choose to take an optional local tour to Tangiers or Granada.
Call (800) 576-1784 for a free consultation today!
---
Experience the best of Northern Spain with our 8-Day Northern Spain from $1,095 Escorted Vacation

Explore San Sebastian and Bilbao and take a short panoramic tour of the Guggenheim Museum. Travel through the Picos de Europa Mountains of Cavadonga and enjoy the splendid landscapes. Depart for Gijon, the second capital of Asturias, and enjoy a panoramic tour before continuing through Luarca and Ribadeo. Continue on to Santiago de Compostela and visit the Plaza de Obradoiro, the Cathedral, and more. Depart for Rias Bajas and see La Toja Island, Ria de Arosa, and Pontevedra and continue on to the Galician mountains on the way to Madrid.
Call (800) 576-1784 for a free consultation today!
---
Experience the best of Andalusia and Barcelona with our 7-Day Andalusia and Barcelona Spain from $995 Escorted Vacation

Discover the best of Spain beginning with a drive through the La Mancha region, home of Don Quixote. Continue on to Cordoba in Andalusia and explore its architectural wonders during a guided tour of the city. Explore Seville, visiting the narrow streets of the Barrio de Santa Cruz, the Park of Maria Luisa, the Plaza de Espana, and an optional artistic tour of the Royal Alcazar Palace & more.
Call (800) 576-1784 for a free consultation today!